Mission
What is the Deep Connection?
The Deep Connections 2019: Exploring Atlantic Canyons and Seamounts of the United States and Canada (EX1905 Legs 1 and 2) is a two-part, telepresence-enabled ocean exploration expedition to collect critical baseline information about unknown and poorly understood deepwater areas of the U.S. and Canadian Atlantic continental margin. As with previous NOAA Ship Okeanos Explorer expeditions, NOAA's Office of Ocean Exploration and Research works closely with a variety of partners to address priorities put forward by scientists and managers from the U.S. and Canada as well as international working groups supporting Seabed 2030, the Atlantic Ocean Research Alliance, and the European Union's Horizon 2020 program.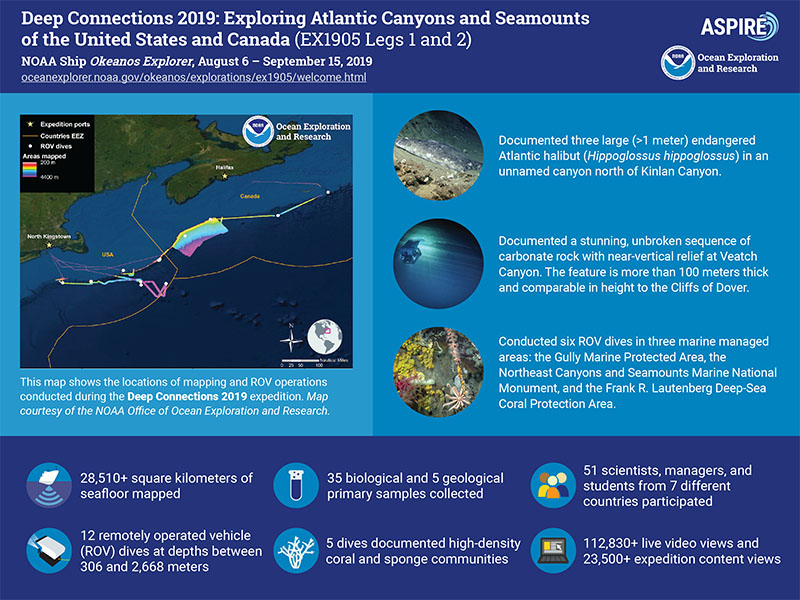 Priorities for the Exploration.
Priorities for exploration included submarine canyons, seamounts, slope habitats, deep-sea coral and sponge habitats, fish habitats, marine managed areas, submarine landslides, and other potential geohazards. Mapping data collected during this expedition will fill data gaps in the region and will contribute to Seabed 2030 goals for mapping unexplored regions of Earth's ocean.
Why Explore the Atlantic?
The North Atlantic is of vital importance to humankind, providing goods, services, and livelihood opportunities for millions of people, from seafood to recreation, tourism to transportation. Expeditions such as this provide critical deepwater data needed to maintain the health of our ocean, sustainably manage our marine resources, accelerate economies, and build a better appreciation of the value and importance of the oceans in our everyday lives.
Source Site – https://oceanexplorer.noaa.gov/okeanos/explorations/ex1905/logs/summary/summary.html