Explorers
Shannon Hoy
Shannon Hoy is a Mapping Lead with the NOAA Office of Ocean Exploration and Research (OER). She has always had a love of the ocean and pursued a degree in marine biology from the College of Charleston, where she was first introduced to seafloor mapping in 2009. During her undergraduate career, she participated with four seafloor mapping expeditions, allowing her to increase her seafloor mapping knowledge and skills. In 2015, Shannon began pursuing her Master's degree in Ocean Mapping at the University of New Hampshire's Center for Coastal and Ocean Mapping. Towards the end of her graduate degree, she jumped at the opportunity to join the OER team as a Mapping Lead, as being an OER Explorer-in-Training nearly a decade earlier had greatly shaped her career and allowed her to pursue her passion for ocean exploration.
Amanda Bittinger
Amanda Bittinger began her career in hydrography and mapping as a NOAA Corps Officer aboard NOAA Ship Rainier. She loves maps! She has gained 14 years of experience, working for corporate and private industry offshore and in field offices in the United States, Europe, United Kingdom, Central America, and the Central Pacific. She has worked on a wide range of hydrographic surveys and ocean mapping expeditions purposed for navigation, dredging, wind farms, seismic, pipelines, cable routes and exploration. She is currently pursuing a Master's degree in Classical Chinese Medicine focusing on the five elements and Shen-Hammer pulse diagnosis, while living in Portland, Oregon.
Dr. Daniel Wagner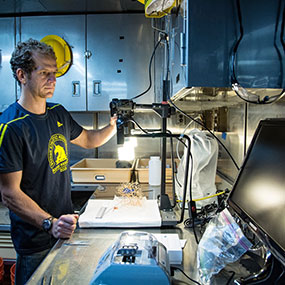 Dr. Daniel Wagner works as an expedition coordinator for the NOAA Office of Ocean Exploration and Research. Daniel has conducted fieldwork on deep-sea ecosystems since 2006 and has since spent over 500 days at sea during 25 multi-disciplinary research expeditions that explored deep-sea habitats throughout the Indo-Pacific, Atlantic, and Southern Oceans. He earned a Bachelor of Science in Biology from Hawaii Pacific University, as well as a Master of Science and Ph.D. degrees in Oceanography from the University of Hawaii at Mānoa. Daniel resides in Charleston, South Carolina.
source cite – https://oceanexplorer.noaa.gov/okeanos/explorations/ex1905/logs/summary/summary.html