Dec
12
I have attended the opening of an art museum  and it was interesting. I am not an art person, and I do not even understand art. However, I was thrilled that I had the chance to attend this event to meet the beautiful artist. I wrote a long report about it but unfortunately did not take any pictures.
About the Artist
(https://www.mei.edu/events/perpetual-identities)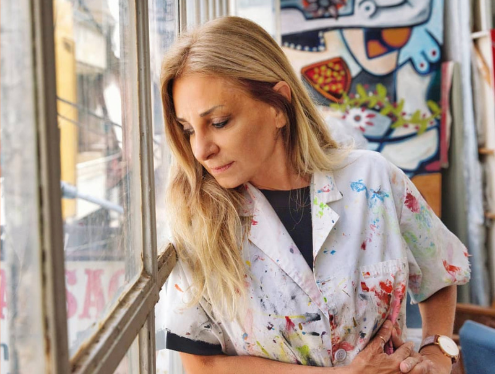 Katya Traboulsi is a Beirut-based multimedia artist whose practice is distinguished by the emotional intensity with which she tackles the effects of the Lebanese civil war.
Both her paintings and sculptural works are characterized by her bold use of color, disrupting the viewer's expectations for the dark subject matter they are confronted with.
Dec
12
I have attended this year's DC craft of Cairo which was held in December 7th and it was located in Alexandria, VA. It was an event in which Egyptian women sell their handicrafts. It was full of people from all around the world. I have seen many people from other countries, such as Morocco, Mexico, China, India, and so many others.
I wrote a small report about it as I included some pictures.
Here is the link of their website!
Dec
12
This time the work was interesting and full of statistics and numbers. I was asked to write about the fact that there were some states that had a huge increase in obesity.
I was shocked when I did the research and found that there are some countries that actually SUFFER from obesity.
Here is a look at the top 10 fattest states in the U.S. For the full list
1. Mississippi
2. West Virginia
3. Kentucky
4. Tennessee
5. Alabama
6. Oklahoma
7. Louisiana
8. Arkansas
9. Delaware
10. Ohio
Dec
6
Informational Interview
            I have interviewed my supervisor, Heba El Qudsi, in Al Sharq Al- Awsat newspaper which is located in Washington DC. I decided to do the interview especially with her because she is the only woman who works in this newspaper in Washington DC, and simultaneously because of the fact that she is my supervisor. I have been impressed by Ms. Heba all the time during my internship in the newspaper for various reasons, such as being the supervisor and editor in chief for an Arabic woman is not an easy thing, especially when there is family and children. Also, Ms. Heba was always strict with all of the team there, she did not accept any lateness or indulgence at work.
When I interviewed her, I was confident that I would gain some more new information and a bit of her experience, and I did. As I started my interview questions, my first question was about her education. She has studied media and journalism in Egypt, Cairo, and had two diplomas from Egypt and North Carolina.
I also wondered why she did decide to study this major and she answered me that she has been reading a lot of magazines and newspaper when she was a little girl, and that was as a direct message to her that led her to think of studying media and journalism. She received a high GPA that allowed her to study whatever major she desires but she preferred to study media and journalism in Egypt.
As she was working hard, she did receive many journalism awards and the most important one was in 1994 from the United Nations for her press coverage of Biggins women conference.
Moreover, as for her choice of an Arabic newspaper to work with, she said that all of her work was with an Arabic newspaper, as she started in Today's News, Egypt Today, the Pyramids, the world's Today, and Egyptian Today. She then worked in Al Sharq Al- Awsat newspaper in 2002 in Cairo and then she moved to London.
I asked her, "What is your message for this filed you chose?" She answered, "I do want to make it clear to all Arabic people that they actually have misunderstood American politics and I really want to provide the information that Arabic readers need to know in order to understand American politics." She continued, "My role here as a journalist is to provide what is related to Arabic countries and the United States relationship.
As her most complicated and hard moments or situations she had to face, she told me that being a journalist has many obstacles and complicated situations. One of the complicated situations she had is when she was working as a reporter and took some information as off-record information, she then was asked to give this information and the name of the person who gave this information. In the end, it was wrong information and they only wanted to see and know Arabic countries' reactions to this information.
On the other hand, there were various good things in this field, such as the respect the journalists get from the governmental entities especially in Washington as they always interact with them and provide them with answers, while it is a little bit hard in Arabic countries.
I asked her if she could change one thing in this field, what this would be. She answered me that she does want to change the written journalism to be a visual and aural content as twitter and other social media platforms are being a danger to them. The youth tend to read through twitter because it is almost in a few sentences, while in the written journalism it is almost two-page news. So I seek to change it to a podcast or something like that.
I ended the interview by asking her for one piece of advice she could give me as an English and creative writing student who is interested in journalism. She advised me to read in all felids and not limit myself in a specific field and after I get knowledge in every field I then can limit myself in a specific one, such as literature, as this is my interest field.
Indeed, I had a big advantage from her interview, and I did learn so many new things that I have never known about. I know that being a journalist or even a reporter is not easy at all, and it is required knowledge, and experience in how to deal with people and complicated situations not only to be professional writers.
Dec
6
Reflective Essay
           After a long time of searching and looking for the appropriate internship, I finally found an opportunity in an Arabic newspaper in Washington DC. It calls Al Sharq Al Awsat newspaper, which means the Middle East in English. Al Sharq Al Awsat newspaper is an Arabic international newspaper headquartered in London. As an English and creative writing major, I believed that I had to improve my writing skills not only in my creative writing but also in all writing types. Therefore, I was keen to do my internship in a place that gives me good experience and enhances my writing skills.
I do have various goals that I seek from this internship, such as enhancing my writing, communication, and networking skills. I wanted to enhance my writing skills; especially the report and news writing because this type of wiring is the only type that I have never had an opportunity to practice before. Also, to have as much information and experiences as I could gain, not only in the writing field but also in different fields. In this internship, I had to communicate with people and send them  follow up emails and that enhanced my communication and networking skills.
During my internship, I had to work on various major projects. The first project I had to work on was writing a short report about the Saudi Students' Association club at Marymount University. The Saudi Students' Association club was having a party or an Arabic night for Arabs living in Washington DC and Virginia, this party was held in Washington DC. I attended the party as a reporter, not a student and that was interesting to me. I took some pictures of the event and wrote the short report once I got home. It was a challenge to me because they asked me to write a very short report that was less than 200 words. As we know, writing less is harder. However, I did it, and they did like my report. That was the first task that I asked to do and I did it very well, and that has encouraged me to keep working passionately.
      "Not all of your work is going to be published, it depends on the newspaper's headquarter in London." That is exactly what my internship advisor told me when I asked her about when my first report should be published. To be honest, I felt frustrated and week. I felt that this was my right, to see my work get published if it is well written. I was keen to make some of my work published and I have told some of my friends that my report about the Saudi Students' Association club's party was going to be published. I took some time to realize that not all of my work was going to be published. And I did accept that.
My second task was different, and I learned from it new things and information. I was asked to write a long report about the new rules the FDA had made about vaping. I was asked to watch the news and analyze what the president Trump had said about this issue. I was supposed to read many news articles in both English and Arabic, and collect data and write the report. It was a challenge but I was enjoying doing this process. It was long, but I could feel the experience of working on it. The difficult part was that I had to submit the report on the same day the news released. I only had three hours before submitting the report. It was very early in the morning around 7 o'clock, and I had to submit the report at 10 o'clock maxim. I did the process very well, collect the data, read so much, and submitted the report. Luckily it was very well written as my advisor had told me. She sent the report to the London branch and she asked them to publish it, but unfortunately, they didn't. However, this time I was not frustrated that my well-written report was not published. This time I realized that I am here to gain experience and I am gaining it very fast.
The projects I was working on during my internship were not limited to only writing reports, but also attending international conferences. I have attended two international conferences that were held in Washington DC. Arab Relations sponsored both of them. The first conference was about Yemen's situation and how Saudi Arabia was supporting them. This conference was important to me. I have met the Saudi surgeon Dr. Abdullah bin Abdulaziz Al Rabeeah who was giving a presentation on that day.
The second conference was insightful. I have attended and volunteered in the 28th annual Arab- US policymakers The Arab Relations conference which was held in Washington DC. I can say that this experience was the most important and precious experience I have ever had. Several important people have attended the conference, such as the Princess Rima Bint Bandar Al Saud, and she also the Saudi ambassador in the Saudi Embassy here in Washington DC. Also, I had the opportunity, and I was very lucky, to greet and talk with the Saudi prince Turki Al Faisal Al Saud as I was in the VIP section, I was one of the people who were responsible to greet the speakers and serve them with refreshments.
Moreover, I was supposed to go to the American Ministry of Foreign Affairs with a journalist from the newspaper I am working with to cover the interview and see how this process goes. However, they notified me that unfortunately, I could not enter the Ministry because only journalists were allowed to enter the American Ministry of Foreign Affairs. And I do not even have any permission to go there, as I am an intern.
Another thing that frustrated me was that I had difficulty in scheduling an appointment that works or the three of us, my internship advisor, my academic adviser, and myself. Especially that we had to cancel it more than once and I then started my exams and final weeks and did not have time to reschedule the meeting and see both of my advisors' time. I was overloaded with assignments, presentations, projects, and most importantly my seminar paper. I barely spend a few hours to sleep.
One of the skills I wish I had prior to my internship is journalism skills. I thought that when they accepted me to work with them in the newspaper, they would teach me writing for journalism from scratch. However, they did not do that. I faced some difficulty in writing in their style at the beginning then I had to teach myself how to write in their style. So I was reading their newspaper every day, practicing their writing, and bothering them with so many questions because I simply wanted to learn and gain experience out of this internship.
Moreover, I wish that I took the journalism course prior to my internship. I enrolled in this course last year but I had to drop it due to the time conflict with another core course that I had to take at that time. I think if I took it last year, my internship would become much easier.
As an English and Creative Writing major, I was asked to write so many papers every day, think creatively, and work in teams. Therefore, that has led me to be able to work under pressure. In my internship, they too asked me to write so many reports and all of them had to be submitted on the same day, which was challenging to me.
At school, working under pressure and simultaneously my work had to be well written is something that helped me a lot in both my education and internship. In the internship, I had to work under pressure even though I am a student. They gave me various tasks to work with but the worst thing was that most of the time I had to submit it on the same day. Also, working in teams was important in my internship, so I think I got this skill developed and I am no more worried about working with others.
I can say that my internship experience was insightful. I have gained various skills and improved my knowledge and networking skills. As for my strengths and weaknesses, I have so many good and essential skills that are my strengths, such as writing in different styles and working under pressure. One more area of strength lies in my ability to do research. Researching a topic that is foreign to me is difficult, and I have spent countless hours learning journalism terms and political rules that I didn't even know. However, I was doing very well in researching and writing the information appropriately and submitting it on time.
I do have some weaknesses that were bothering me, such as working in groups. I do have the ability to do that, but I do not feel comfortable doing that. I tend to be more creative and active when I am working alone, so working in groups kind of limits my creative ability. However, I had to work in teams in my current internship, I was not comfortable with it but after a while, I noticed that I have improved my working in-group skill.
In my home country, it is very hard to get a job after graduating if students do not have experience in their field. I was worried about my future plan after graduating since I did not have the complete experience in the work field. However, in my English senior seminar, when I shared my resume as an assignment with Dr. Rippy, she noticed my various experiences in my field as a volunteer. She told me that even volunteering experiences would help me in my career, especially that these volunteering experiences were all in my study field which is writing.
Indeed, as I am graduating next semester, I am planning to apply for OPT for only one year, so I gain some more experience in my study filed. In addition, I am planning to complete my education and pursue a master's degree in English. I am thinking of doing something that is related to teaching English as a second language, TEOSL, as I like teaching the English language, especially teaching grammar. I am also thinking of working in a newspaper and magazine when I go back to my home country. My internship gave me a good experience and provided me with the essential skills to be a journalist, reporter, or editor, so working in a newspaper or magazine will be definitely a good choice.
Dec
4
 I was asked to cover the Saudi students' graduation that was held by the Saudi Cultural Mission and it was held at the Catholic University of America. I have attended the event early to take some pictures and to cover it from scratch, from the very beginning.  This event was special, not only because I covered it and wrote a report about it, but also because my mother was one of the graduates' students there. I was so proud and happy!
Dec
4
I was interested to attend Sarah Roberson's talk that was held last Thursday in Ballston Center at Marymount University and write a report about it. As an English creative writing major, that kind of talks would be a great opportunity for me in various ways, such as improving my creative writing skills, building my own style, and understanding the fact that not all people are going to like what I am writing, as Sarah has told us. She talked about how many publishers did not like her novel, and that is a normal thing any writer could face during his writing journey.
Moreover, when I attended the talk, I was thrilled about what she took us through. She has read a bit from chapter 9 from her novel. It was about a woman who is struggling in accepting the fact that she has cancer, and will face hair loss.
In addition, the talk really helped me because I am doing my seminar research paper on breast cancer and its effects on femininity and self-esteem in women who suffer from Caner. It was kind of another helpful source for my paper as it also considers an illness memoir that I am doing my research paper on.
The thing that really hooked my attention and shocked me is when Sarah told us that if we wanted our work to be published, we would have to pay so much, tax, hire someone to make the front cover, and another person to write a brief description on the back of the book.
Indeed, I purchased her novel and it was for only $10, which is great. And I am planning to start reading it once I finish final exams. And I did the report and it was great!
Nov
2
This time I was asked to read the interview of the Saudi princess, Reema Al Saud, with an American magazine called Politico Magazine in English. They needed me to write it in Arabic in my own words. I really enjoyed working on this project because I, personally, lov
e princess Reema and I wish I meet her onetime.
Oct
31
This week we meet in the press club,  is a professional organization and social community for journalists and communications professionals, to discuss recent news and how we develop our work process in the future. I had learned a lot at this meeting. I did not have a good background in politics so I could not write political news or reports. However, they explained to me in detail and taught me a lot about the politics here in the United States and how I can write a strong informative news report.
Oct
31
I am working on my LinkedIn profile, so I will be well prepared for jobs after graduation.
I really liked how LinkedIn helps people to network together and show their resumes in a new creative way.
Here is the link of my LinkedIn profile.
https://www.linkedin.com/in/lujain-alsulaimani/
keep looking »