Happy Friday, Saints!
This fall semester, Dr. Holly Karapetkova, esteemed Arlington Poet Laureate, and the Program in Literature & Languages brought fiction writer Melanie S. Hatter to campus for our Virtual Fiction Reading Friday.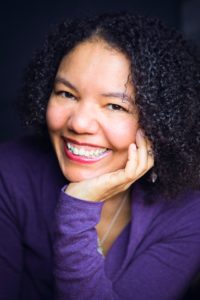 Hatter read from her latest novel, Malawi's Sisters, which chronicles a Black family's journey to healing after the tragic murder of a loved one in the era of the Black Lives Matter Movement. She also read her short story, "Angel in Pink," which was featured in Washington Writers' Publishing House anthology, This is What America Looks Like. In both of her works, Hatter poignantly tackles the complex nature that race plays in the US as well as its effect on the lives of Black people.  After her reading, the floor was open for students to ask questions. Many of the questions centered on how to maintain an active career as a writer while also juggling a day job and other daily responsibilities. When speaking on the topic of multitasking, she had this to say:
It's always a challenge. If we want to pay the bills and eat, we have to find a way to have income. Unless we're getting paid big bucks for our novels and our books, we're always going to be in that place of trying to balance between our own personal writing that we want to do and the day job. But I always feel that as a writer, if you are a writer… it's sort of innate within us. We're going to write no matter what. We're going to find that space, we're going to find that time. It's going to ebb and flow … but it doesn't mean that I'm not a writer, and it doesn't mean that I'm not writing necessarily … If you have an idea for a story and you're mulling it over… if it's percolating, that's part of the writing process, that's still writing. 
Another question, which was posed by Dr. Karapetkova, pertained to the responsibility of the writer, in response to the complexities and traumas of the world. On the matter, Hatter said:
I don't know that it's a responsibility necessarily. But I think as writers, we are witnesses. I personally feel like I should witness. Whether it's to then turn around and write a story about it or not…  A lot of people talked about, for example, the George Floyd video. It was getting shared across social media. And so many of my friends said, 'I can't watch it. I haven't watched it. I refuse to watch' … And I absolutely understood that, because it's additional trauma, right … We see ourselves in these situations. But there was something in me where I felt like, I might not go and march necessarily but I'm going to witness. I'm going to watch this moment because it is an important moment in time. This is a life and it is being taken from us and we're watching it.  Whether I ever write about that particular moment or not… there is that sense of wanting to witness. And I think that as  I witness these moments they do sort of combine and come out through stories in different ways.
As you can see from the quotes above, the Virtual Fiction Reading Friday with Melanie S. Hatter was awesome! Shoutout to Dr.  Karapetkova for hosting the event and a special thank you to Ms. Hatter for visiting with us. To learn more about Melanie S. Hatter and her work click here. The next Virtual Reading Friday will be held next Friday, November 19th. For more information about the event and how to register click here. See you there!