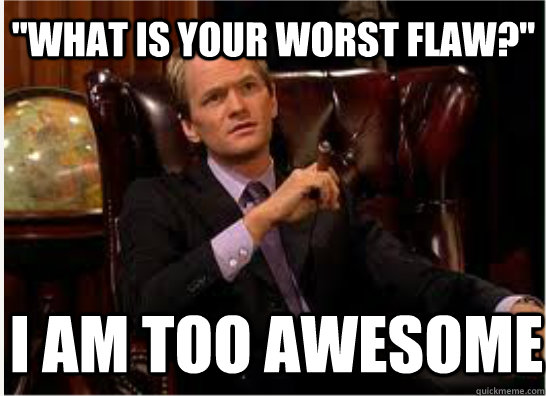 Sometimes when I walk out of an interview, I'm as nervous as when I entered it. What mistakes did I make? Here are 6 Steps to NOT getting the job:
Unqualified or overqualified

The purpose of getting a job is to develop a new skillset. One thing you want to do is pretend you're the perfect fit. After all, it's just another one of the many interviews you've set up for the next few weeks, right?

Under-prepared for the interview

Start by not identifying the company or figuring out where it's located. Showing up to your interview 15 minutes to 1 hour late is a great start. You can't stop talking about how incompetent your previous employer(s) and co workers were. Your resume is generic with words that have the potential of

 

hurting your resume and your resume IS your elevator speech.

Failure to address personal appearance

Alright, so you made it to the interview, you're sitting there and 15 minutes into the conversation, the employer looks you up and down. He/She has realized that you're slouching and you are wearing accessories that are not a good fit for the environment. If an employer is able to look past your dyed hair, it only makes sense to compensate by showing that you care about how you

 

present yourself professionally. But if you're willing to not dress for the job you (really) want, then so be it.

No drive

Treating this interview as one of the many you have is the best way to go about with the Job Search. You want to clearly show that you're desirable to other employers (even if you fibbed a bit and added a few more on the list). Enthusiasm scares employers away so don't be too eager. Ever heard the term curiosity killed the cat? Doing research about the job before the interview might cost you.

Asking way too much about benefits

One of the greatest mistakes you could intentionally make. I mean, sure they haven't made an offer, but maybe pushing them in the right direction might work. Want to take the next step? Tell them about the bills you need to pay. Nothing spells eagerness and cheap labor quite like I-need-a-job-and-I'll-do-anything.

TOO Honest References

When you look for a reference, what you want to start by doing is picking people who are close to you, particularly old bosses, family members, friends, etc. Honesty is great especially when it's a good account of who you are as a person, and it can be even better if they're TOO honest. What could possibly go wrong?
BUT if you really need to know the first steps to getting a job, my one advice would be to focus on the person, not on the content. Additionally, you want to negotiate for the job you want, not the job you need.