Healy – Not Your Grandfather's Icebreaker!
Having had the opportunity to visit the Arctic each summer over the past three years, we truly appreciate what a rare and special experience these cruises are, for both the Healy crew and the science party alike. And now, with our nearly 20 cumulative years spent on ships (almost entirely on icebreakers!), we can say with confidence that The Hidden Ocean 2016: Chukchi Borderlands mission this summer has been the most exciting expedition on which either of us has served. It is always an honor to work with some of the world's leading researchers carrying out cutting-edge science for the betterment of humankind, but the groundbreaking nature of the science this summer, and the immediate and tangible results, set this expedition apart.
It is hard to describe how thrilling it was to see the first transmissions from the Global Explorer remotely operated vehicle as they were projected on the large display in the Main Lab. It is an amazing tool, and offers an extraordinary window into the life of the Arctic. Most biologists will never have the opportunity to identify a species, like some of the ctenophores we collected. Fewer still will have the chance to discover, explore, and document a previously unknown ecosystem, like the Chukchi pockmarks. Yet this summer, through the cooperation of the Healy crew and the members of the science party, we were able to do both.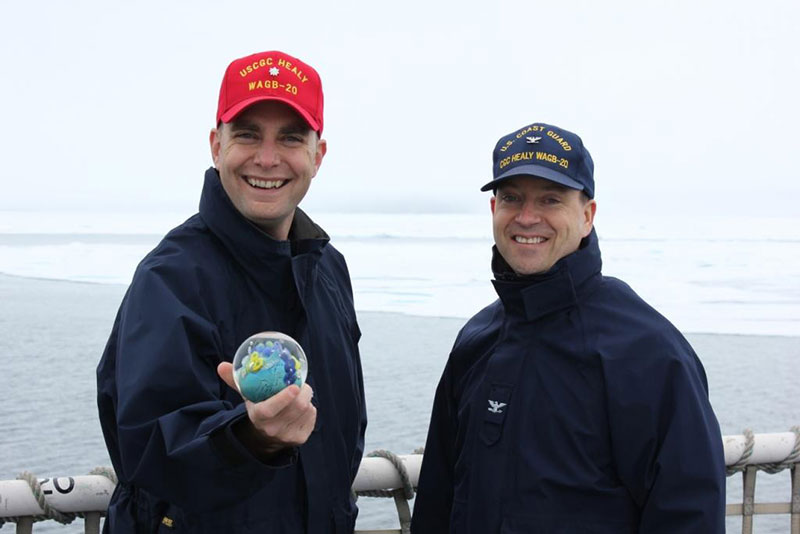 With many of the science missions supported by Healy, we aid in the collection of data and water samples that are taken back to the lab, and analyzed for years, possibly decades, before the true value of the research is fully appreciated. To get up close and personal with these new discoveries is an experience we will never forget.
CDR William Woityra and CAPT Jason Hamilton proudly display the Planet from The Infinity Project, mentioned in the Unique Recognition for a Unique Expedition log. Image courtesy of ENS Brian Hagerty, United States Coast Guard, The Hidden Ocean 2016: Chukchi Borderlands.